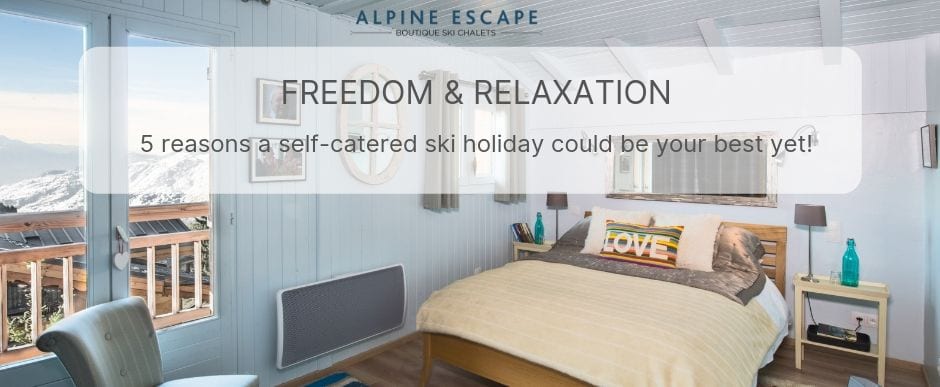 11 Jun

5 reasons that self-catering could be your best ski holiday yet!

… If the main aim of your holiday is to relax, stop rushing around and just enjoy hanging out with your nearest and dearest, then maybe it's time you considered choosing a self-catered chalet?

At Alpine Escape, we're seeing more and more of our regular guests opting to choose the flexibility of a self-catered holiday.

Here are the top 5 reasons choosing self-catering could work for you and your group:
1. Après-ski for as long as you want!
Whether you want to dance on the tables at the Folie Douce or enjoy a pint or two over the rugby, with a self-catered holiday there's no set time you have to return to your chalet for dinner. If the mood takes you, you can indulge in après-ski 'til dawn!
2. Flexible dining
If you enjoy lingering over a late lunch or simply don't want to overeat whilst on holiday, we know how you feel! You can just pop to the local shop on the way home to stock up on supplies.
However, if you want to be a bit more organised, then our pre-holiday concierge can help you to sort out dining options in advance, for instance with bread/croissants in the morning, a pre-arrival supermarket shop and delivery, booking a couple of oven-ready meal deliveries during the week, or simply asking your housekeeper to leave out some sharing platters to nibble once you return from the slopes. It's up to you!
3. You don't have to rough it!
At Alpine Escape, you can rely on us to ensure your creature comforts are still part of the package… Our housekeeping service means that when you get back from the slopes/bar, your bed will be made, your logs will be re-stacked, your kitchen will be tidy and the bins will have been taken out!
4. Go on an adventure!
If you fancy seeing a firework display or an ice hockey match, taking the kids for a swim at Aquamotion, going husky sledding, riding a snowmobile or even hiking up the mountain early in the morning to see the sun rise over the mountains, then in your self-catered chalet you can experience another side to the mountains without having to worry about being late for a meal. You're free to come and go as you please…
5. It can save your group £££

Our self-catered properties start from £400 per person for a week. With plenty of options to cater for your group without having to break the bank you can keep within your budget whilst still enjoying feeling looked after. Read more about catering options on our self-catered holidays.
---