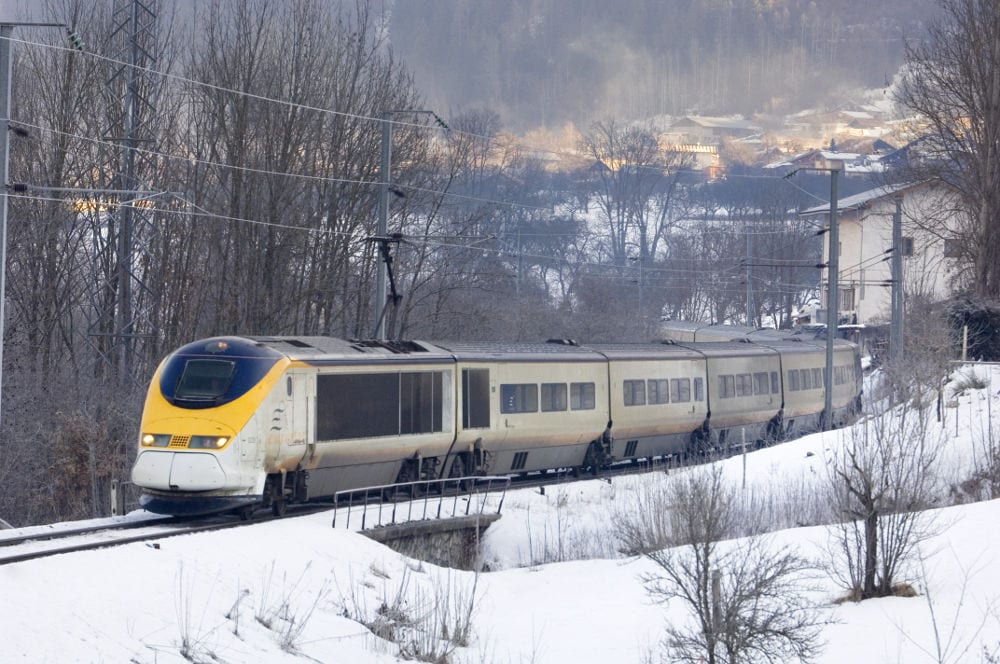 05 Sep

Taking the train to the Alps
Discover the romance of taking the snow train from London to the French Alps…
If you've always opted for heading to the Alps via an airport, maybe the new Eurostar snow train timetable will persuade you that taking the train to our chalets in Courchevel might be a better option.
The Eurostar trains over the winter ski season start at London St Pancras, make a stop in Ashford and then arrive into Moutiers, a mere 20 minutes to La Tania or 30 minutes to Courchevel Moriond. AE Transfers, our sister company, operates transfers to and from Moutiers.
An easy way to travel, it's popular with families as children can move around rather than being stuck in a chair. It also means no-one has to drive on the mountain roads, and the sheer pleasure of gazing out of the window and taking in the views adds to the romance of your holiday!
Eurostar luggage allowance
The snow train luggage allowance is generous – two suitcases plus hand luggage and ski/snowboard bag at no extra cost.
Snow train services to the Alps
There are day-time or night-time options available, with one service leaving Friday night from the UK and arriving Saturday morning. Alternatively there's a Saturday morning service which takes 9.5 hours to arrive in Moutiers station, and in the chalet in time for pre-dinner drinks!
Return journeys depart from Moutiers on Saturday morning or Saturday afternoon, meaning that a potential two extra days' skiing could be acquired by using the snow train. At Alpine Escape we can store bags until the chalet is available for check-in while you head out onto the slopes to enjoy those extra turns.
How much does it cost?
Eurostar fares are between £150-£320 return per adult and run from December– April  . Click here for pricing information
Add a transfer from Moutiers to your chalet with our sister company AE Transfers from €130 for a group of 4 guests.
Extra days' lift passes are €332 for 7 days or €379 for 8 days in the Three Valleys (using the Tribu rate at which Alpine Escape can purchase all lift passes). A 6-day Three Valleys pass costs €285.
Don't forget that you don't need to add ski carriage to the cost when you compare the price with a flight!
To book your train to the Alps, contact eurostar.com or 03432 186186
The ski train is better for our planet
Daniel Elkan of Snow Carbon, a site dedicated to rail travel to the Alps, quotes a report which finds that skiers travelling by train create only 12kg of CO2 per person, as opposed to 122kg by plane or 240kg by car. He also adds:
"In 2007 a study by French government agency ADEME and charity Mountain Riders found that 73% of the total carbon emissions of a typical ski resort result from transport of holidaymakers to the resort. A later study in 2011 estimated it at 64%.  Either way, it's a huge chunk – and shows how important your choice of transport method is."
So as well as a more relaxing journey, if you travel to the alps by snow train you're also making a commitment to protecting the snow for future generations.
Read more about the environmental benefits of rail travel.
What's the snow train like?
Snow Carbon made this video about the Eurostar service which gives you an idea of what to expect:
Get in touch if you have any questions or comments about taking the train to the Alps.