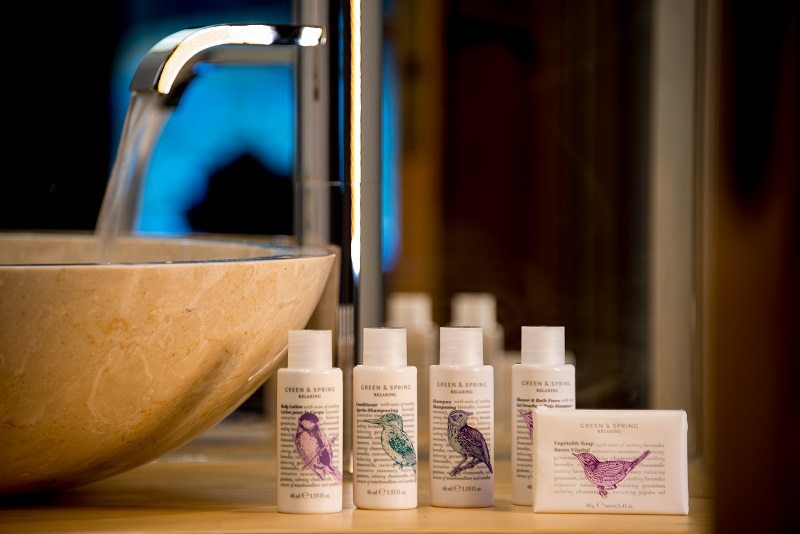 12 Dec

Handmade 100% natural toiletries in our chalets
New in all our chalets: handmade, local and natural toiletries
We're delighted to introduce our new selection chalet bathroom products: handmade natural toiletries which all our guests will find in our catered and self-catered chalets in Courchevel Le Praz and La Tania this winter. We've chosen Albus & Flora SPF30 lip balms and Green & Spring products: made using botanical ingredients, they feel suitably luxurious and we hope you enjoy using them on your ski holiday.

We're really pleased to be supporting a local business with our choice of lip balm. A small company founded by a resident of Courchevel Le Praz, the Albus & Flora neutral lip balm has an SPF30 rating and is created using  botanicals including alpine rose and arctic
cranberry oil, rich in phyto-nutrients and anti-oxidants.
The lip balms are inspired by a passion for mountains and adventure and have been specially designed not to freeze in the winter nor melt in the summer – perfect for our chalet guests!
The name Albus & Flora embodies the company's origin in the mountains as well as the ingredients in the products. In the words of Rachel, the company's founder: "ALBUS, meaning white in latin, symbolises the natural purity and lightness of our formulations, the fun and freedom of adventures in the snow. FLORA, meaning regional plants, and the name of the roman goddess of flowers and spring, symbolises the beauty and resilience of the alpine botanicals we use."
The range has also been awarded 'Highly Commended' in the Debenhams and OK! Magazine Beauty Awards 2016.

---
Green & Spring
From this UK-based company, we've discovered these luxurious natural toiletries that are handmade and use 100% botanical ingredients. Green & Spring use extracts from plants native to the UK which have been cherished for their therapeutic qualities by English apothecaries for hundreds of years.  These include lavender, chamomile, reosemary, rosehip, red clover, elderflower, thyme, geranium, marshmellow, comfrey, dandelion, peppermint, fennel and rose.
All ingredients are sourced ethically and are free from parabens, SLS, SLES, PEGS, glycols, petrochemicals, synthetic colours and fragrances.
The relaxing range that we chosen for the chalets blend the soothing fragrance of lavender with the nurturing and restorative properties of comfrey and rosemary.